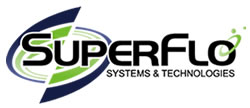 We Are IT!
Superflo Systems & Technologies provides a wide range of technology solutions.  Our 30+ years expierence in the logistics industry has given us the expertise to build elaborate web applications that support the day-to-day operations for a wide variety of trucking companies.
Technology Solutions
Superflo is an innovative technology company dedicated to creating custom solutions for a wide variety of companies.  Our business-minded staff will work with you to evaluate  your specific needs and build custom software to support them.
Products
Superflo is constantly developing new software to add to our product base. Some of our most popular software packages are:
Auto Broker Dispatch
Transport Auto Quoter
GeoZip
For a full list of our products, please visit our products page.  If you are in need of a custom solution, please contact us using our contact page.